Bonuses offered by 1xBet bookmaker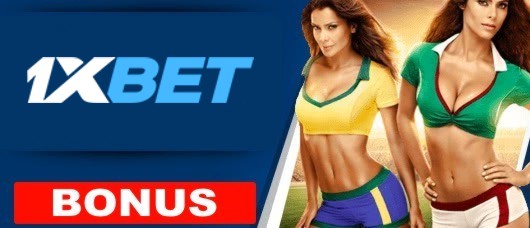 Deposit bonus. With 1xBet, you can get a bonus with your first deposit of up to 100 %. This bonus is limited to a maximum sum of 100 EUR. In order to get this bonus you need to register and make your first deposit, which must be at least €10. Your bonus will then be immediately added to your account.
Receipt of this initial bonus has further conditions. The first of these is the fact that the bonus can only be added to a 1xBet account whose profile is fully completed. The second restriction relates to rollover of the bonus. Current conditions require that the bonus must be rolled over at least 5x in accumulated bets. Each accumulated bet should contain at least three events, or more. At least three events in the accumulator must also have odds of 1.40 or higher. The rollover is only recognised by 1xBet.com once all bets placed to this sum have been processed.
1xBet registration – claim the bonus 100 €/$ »
If you do not meet the above described conditions, you will not be able to withdraw any funds from your 1xBet account. Bonuses and winnings made using bonus funds will be considered invalid.
The 1xBet bonus cannot be used in combination with any other promotions and only one bonus can be used by one user. If you try to evade this rule you run the risk of sanction. In extreme cases this may include the deletion of your account along with the loss of the balance of your account. If you do not wish to
receive the 1xBet bonus
, you have the right to disclaim it in advance.
Regular promotions
At 1xBet we currently offer a wide range of promotions which we regularly change over. One attractive promotion, e.g., is a bonus you can get as support for a series of lost bets.
The conditions for this bonus for a series of a number of lost bets in a row: You must have a series of at least 20 losses in a row over a 30 day period. The subsequent bonus ranges from 100 to 500 dollars depending on how much you originally bet. For this bonus, you must take account of the fact that if you have selected accumulated bets then they must be placed on various sports and various results, otherwise you lose entitlement to this bonus.
It should be noted that 1xBet does not currently offer a reload 1xBet bonus and nor can you join any reload loyalty programme.
Bonus games
1xBet bonus games comprise 1xPairs, and also 1xLottery, 1xChest, 1xSafe, Wheel of Fortune and Daily Lottery. The principle of these games is to acquire special winnings, or collect bonus points, and the more you play the greater chance you have of collecting these.
Daily Jackpot in 1xBet casino
You must always monitor the individual conditions for our portfolio. This changes daily and you need to observe the set rules when betting. The timer on the website counts down how much time is left on that day before the task for players changes. At 0:00 MSK, the jackpot is credited to winners and the new task is made public. The winnings sum will also be published on the website. You can find out if you have won from the number of your ticket which you will find in current and previous draws.
1xBet eSports bonus calendar
Basically, this is not betting on real sports matches, but rather virtual, whether virtual football or virtual horse racing. On one day, you bet on the specific sport selected. Cashback for the bonus calendar is of the range of up to 30%.